2015/16 Results
Overview of the standards achieved by the pupils in our school
This year, the children across the school and country have been tested on the new National Curriculum expectations and these standards and expectations have increased significantly. We are extremely proud of all our pupils in school, the effort that they have put into their learning this year and the achievements they have made across the school. Below are the provisional results that the school has achieved this year showing how we compare against the overall Wakefield and National results.
Foundation Stage – Good Level of Development

Year 1 Phonics Test

Year 2 Phonics Retakes

End of Key Stage 1 - Expected

End of Key Stage 1 – Working at Greater Depth

End of Key Stage 2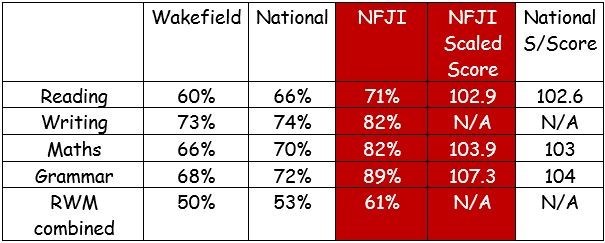 End of Key Stage 2 – Working at Greater Depth

Progress Measures KS1 – KS2

I hope that you will celebrate the successful year that we have all had. In all of the curriculum areas that were tested, North Featherstone J & I School performed above the average achieved within Wakefield schools and in all but one area, we achieved above the average within the National schools. This clearly shows the fantastic work that all the teaching staff are doing to ensure that your children reach their fullest potential.
Please find below a link to NFJI's performance table service provided by gov.uk:
https://www.compare-school-performance.service.gov.uk/school/108206