Welcome to
Upper Foundation Stage
Cherry and Ash Class
Autumn Term
The first week has gone really well in Upper Foundation. Children have had time to settle in and get to know their classroom and teachers. All children are really enthusiastic and motivated about taking part in a range of learning activities. Already we have started to develop an awareness of our emotions and feelings. Every morning children will be asked to place their photograph on a feeling, this will help to ensure all children are feeling happy and ready for learning from the start of the day. If children need some help to cope with their feelings, then there will be time in the day when this is discussed and coping strategies shared. Here the children are from Ash class being introduced to the new feelings activity.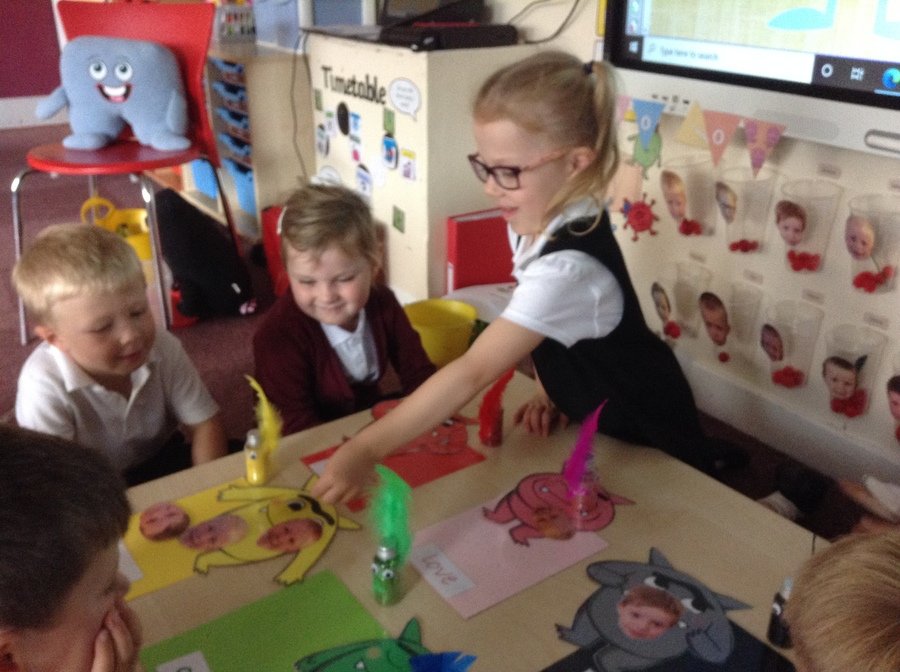 Apple Picking
It's always fun collecting the apples from the apple tree in our playground at this time of year. The children first picked the apples using a special apple picking tool and then sorting the 'good' and 'bad' apples. After we cooked all the good apples and made some delicious apple crumble....yummmy!!
Walk in the Local Area
As part of 'Houses and Homes' topic we went for a walk in the local area to spot different types of homes. Children are learning to indentify similarities and differences between the houses around North Featherstone. Children were very sensible and responsible on the walk and even noticed some of the signs that Autumn was on the way. Take a look at the photographs of the route we walked.
Science Morning
What a fantastic morning in Foundation Stage, learning about the body. Children explored the five senses as well as demonstrating they could name different parts of the body and the human skeleton. Children took part in lots of indoor and outdoor activities. Take a look at some of the fun we had.
Halloween
Spooky Day was so much fun for children and teachers. We all really enjoyed taking part in spooky crafts and games and not to mention some really amazing costumes.
Autumn Time
All throughout Autumn children have been encouraged to talk about the things they see, hear and feel whilst outside. They are noticing the changes that happen in the autumn season. Here are some picture from our forest school session where children learnt what happens to insects at autumn. Did you know that black fly and green fly only have wings in Autumn? Did you know that Butterflies migrate? These are just some of the interest things we found out. We also made leaf collages of the different instects we learnt about.