Our Community Links
Tweet Town - Supporting anti-bullying week
A drama group came to NFJI to educate our children about different aspects of bullying. This was a fantastic performnacebthat covered all areas of this delicate subject and informed the children about how to stop, prevent and report any type of bullying.
A group of Year 5 children decided they wanted raise some more money for Children in Need, together they gathered the support of parents and family, to help to hold a bun sale at school. The children advertised their event, set up the stall and served their keen customers, and were then in charge of counting their takings, a total of more than a £100 - an impressive effort for their hard work.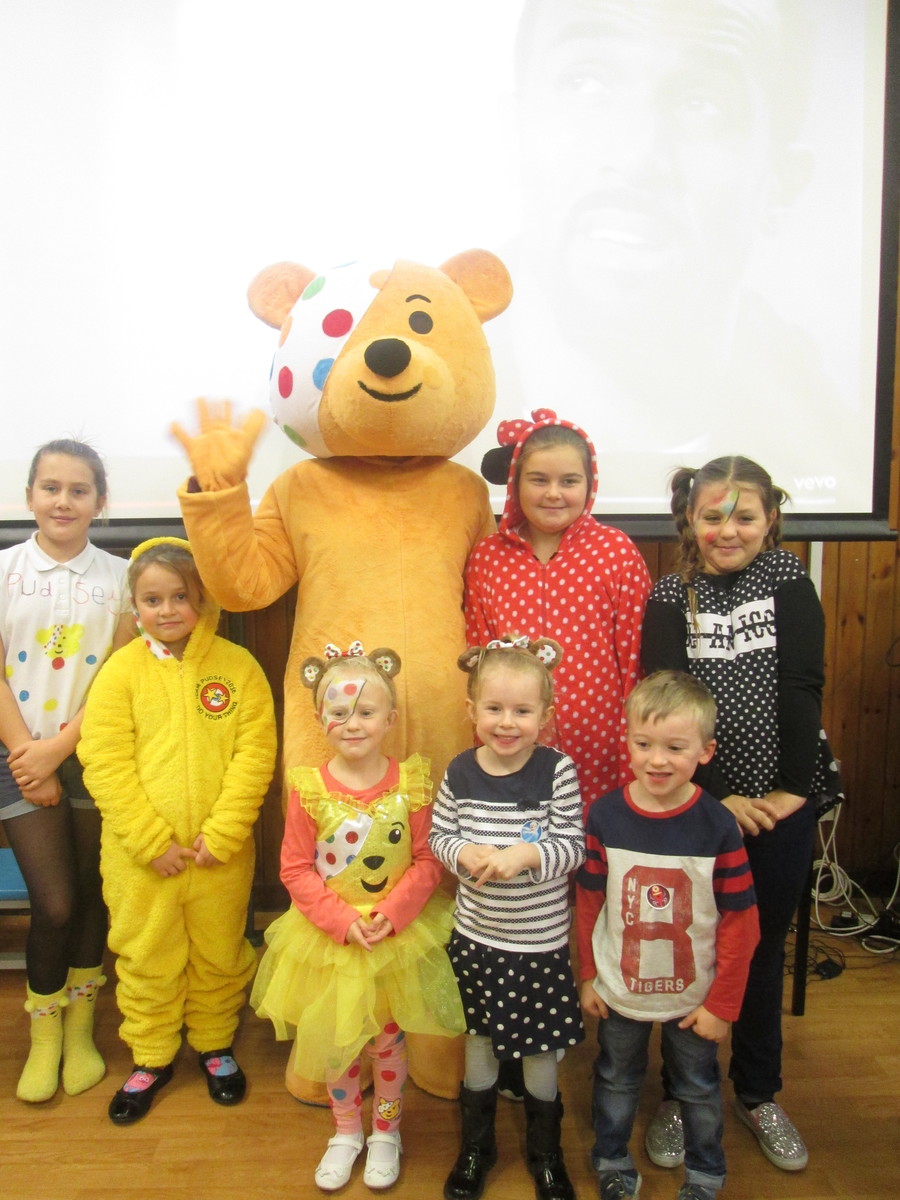 Pudsey making his annual visit to see the children: a fun day in school, amazing outfits and lots of money raised for a good cause!
Year 6 Leavers' Prom
The eagerly anticipated Year 6 Leavers' Prom: the children look forward to getting dressed up and celebrating their time at North Featherstone. It has to be said it is often an evening of mixed emotions, but the children always have a night to remember, as staff and pupils wish them well for the next step in their lives.
Afternoon Tea at NFJI
A small group of children has hosted an Afternoon Tea for those lucky enough to receive an invite. The children have worked closely with Learning Mentors in order to design invitations, prepare the food and drink and carefully decorate the venue. This time is was the 'Friends of North Featherstone' and some School Governors, and a handful of teachers who were the guests. Each child has a specific role during the event. A wonderful afternoon enjoyed by all. We are all hoping to be included in the next round of invitations!
MacMillan Coffee Morning
Friends of Featherstone work alongside NFJI to host a Macmillan Coffee Morning every year. We feel that supporting charities, such as this one, is very important and close to many of our hearts. Each year we have a successful morning and hope to raise even more money the following year. Thank you to those who support us every year!
Easter Eggstravaganza at NFJI
The Easter bunny was accompanied by his friends who delivered Easter eggs to every child in school. During the day there was a Design an Egg competition and the children were invited to an Easter disco. The entries for the design the egg competition were outstanding where parents and carers worked with their children as a home - school project; Eggie Eagle Edwards on a ski slope and an Eggie Stobart truck were a couple of the winners. There was a winner for every class and they all won an Easter egg.
Memorial Day
Each year North Featherstone Junior and Infant School remembers those who lost their lives serving this country. Every pupil, from Foundation to Year 6, sculpted a ceramic poppy to help create our memorial to commemorate the 352 people from Featherstone who lost their lives in World War 1. The oldest children in school visit the Featherstone memorial.
Local graphic design company, Cod Steaks worked with 30 children in UKS2 to create a War Horse. This project was in addition to the memorial which was planted for the Centenary of WW1; a Featherstone community project. The War Horse is now pride of place in the main entrance to the school.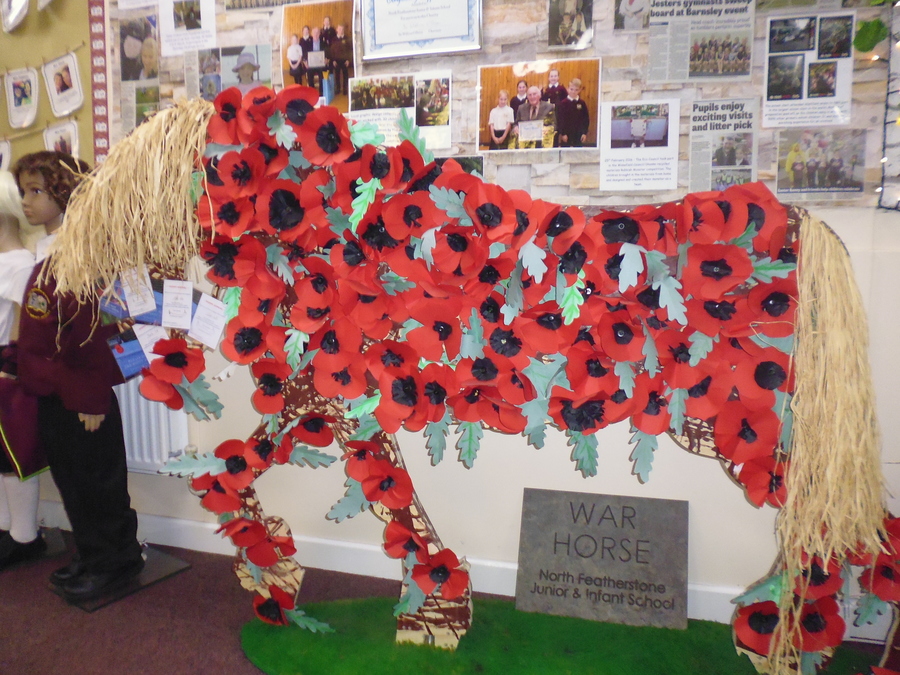 We have achieved Eco Schools Silver award and as part of this, the children have organised a collection of food to be donated to the Faithnet Food Bank, South Featherstone Gospel Church. This photograph is taken with David and Barbara from the Gospel Church. The children who are involved in the Eco Schools are totally committed to improving the environment at a local level as well as globally.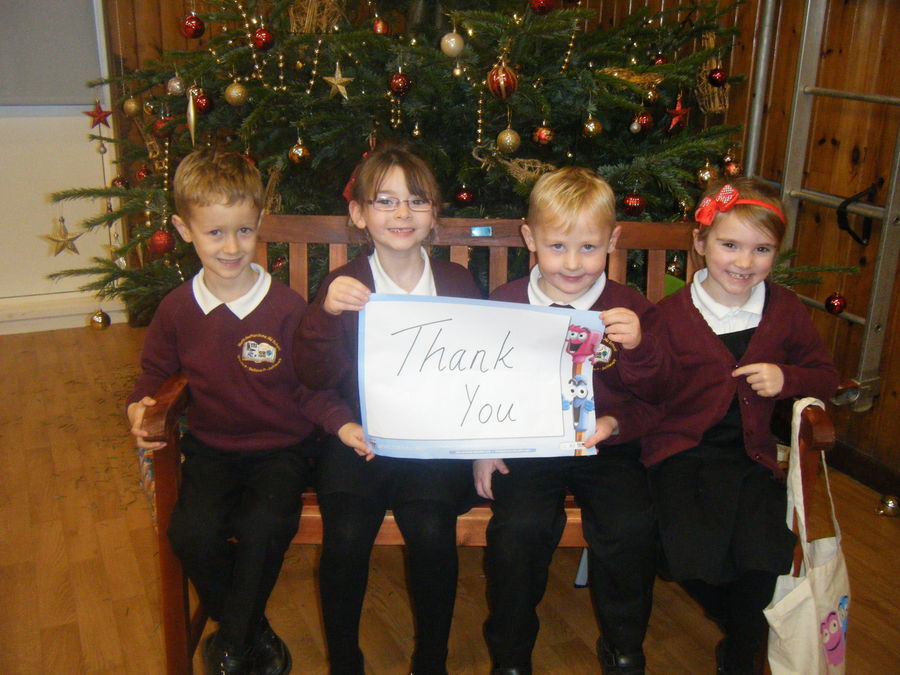 These children were very happy to receive a new bench, donated by a supply agency. It is now situated in the newly designed Reflective Garden.
As part of our Eco Schools, children from North Featherstone Junior and Infant School have been completing litter picks both in school and in the local area. This work ensures our community is cleaner and a nicer environment to be in.
Mayor of Wakefield comes to NFJI
Children enjoyed a special assembly when the Mayor of Wakefield came to explain her uniform and her role in the city. The pupils had many questions they were keen to ask her. One pupil was even selected to be a 'Mini Mayor' for the morning - she delighted in trying on her outfit.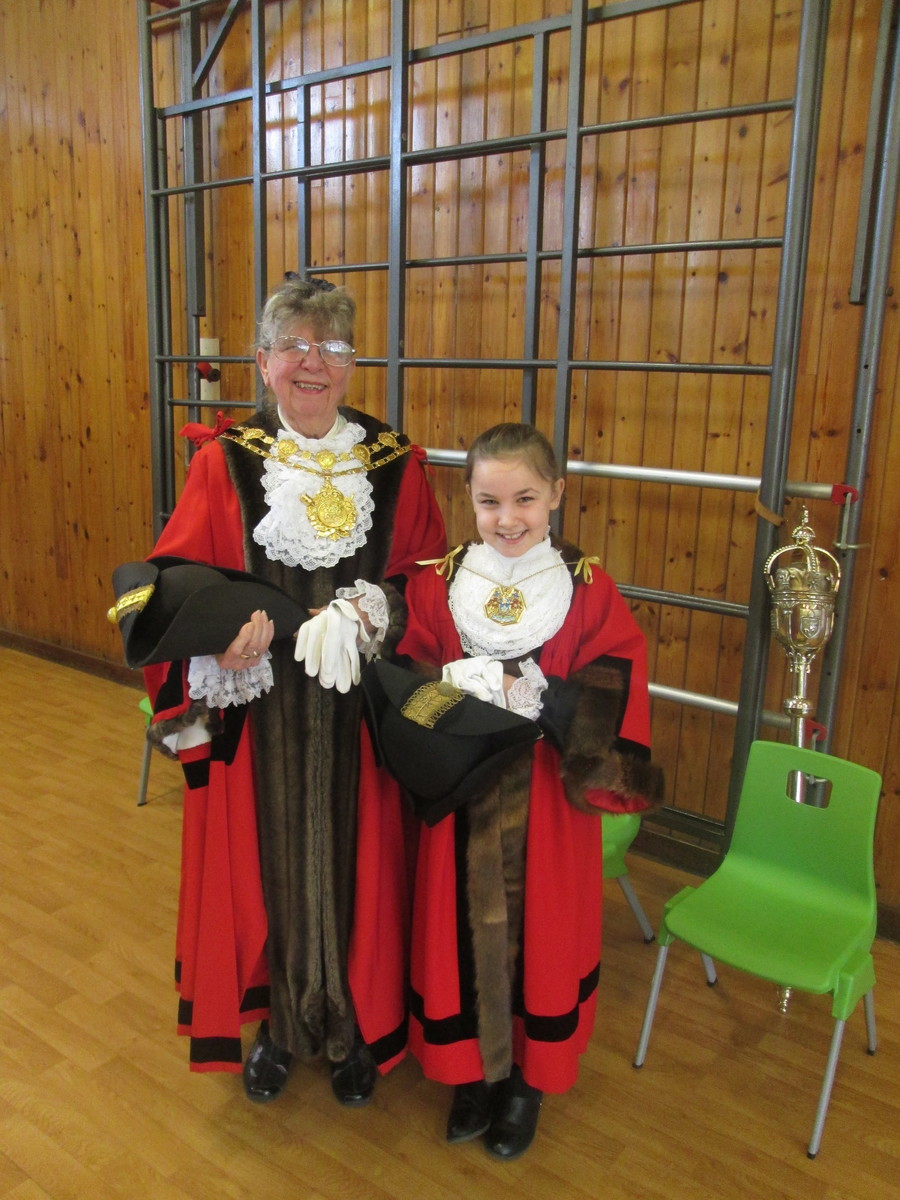 Gala Day
Every year NFJI joins Featherstone Gala parade, dtarting at St Wilfreds, walking down to Purston Park. All staff and children that participate enjoy this every year and love seeing all the community come together, celebrating this day.
NFJI's Choir
Miss Marsh collecting a certificate of appreciate on behalf of the North Featherstone Junior and Infant School Choir, who were awarded for their contributions to the Dr Jackson's charity by Sir William O'Brien, accompanied by Mr Bill Munroe.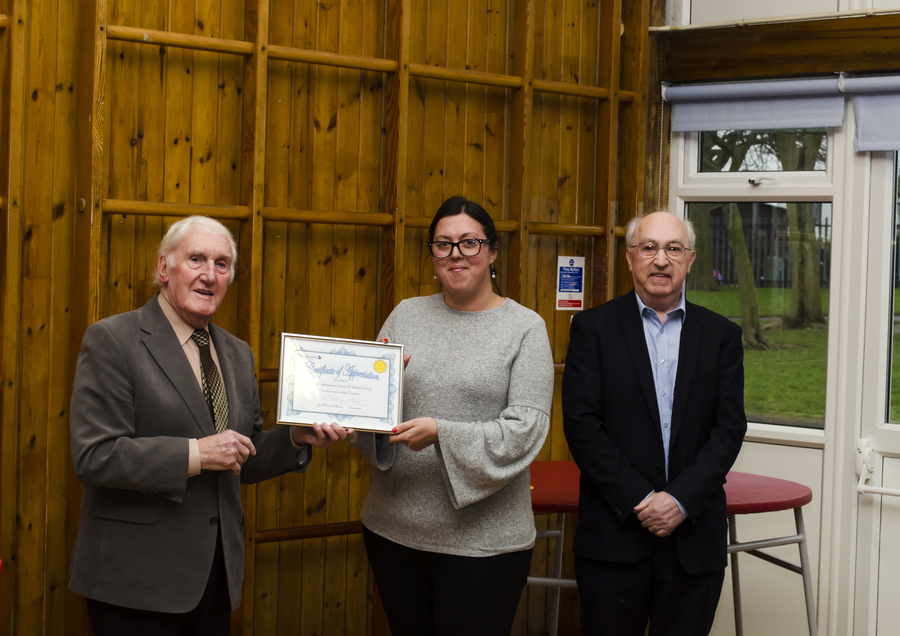 Pirates of the Currybean
Key Stage 2 Drama Club put on a wonderful end of year show - Pirates of the Currybean. It was an outstanding performance by the young actors and actresses, with some very comical and memorable roles. The children performed it fantastically to their peers during the day and in the evening for parents and carers. There was even a surprise dance routine from some 'pirate' teachers - much to the delight and hilarity of the pupils involved.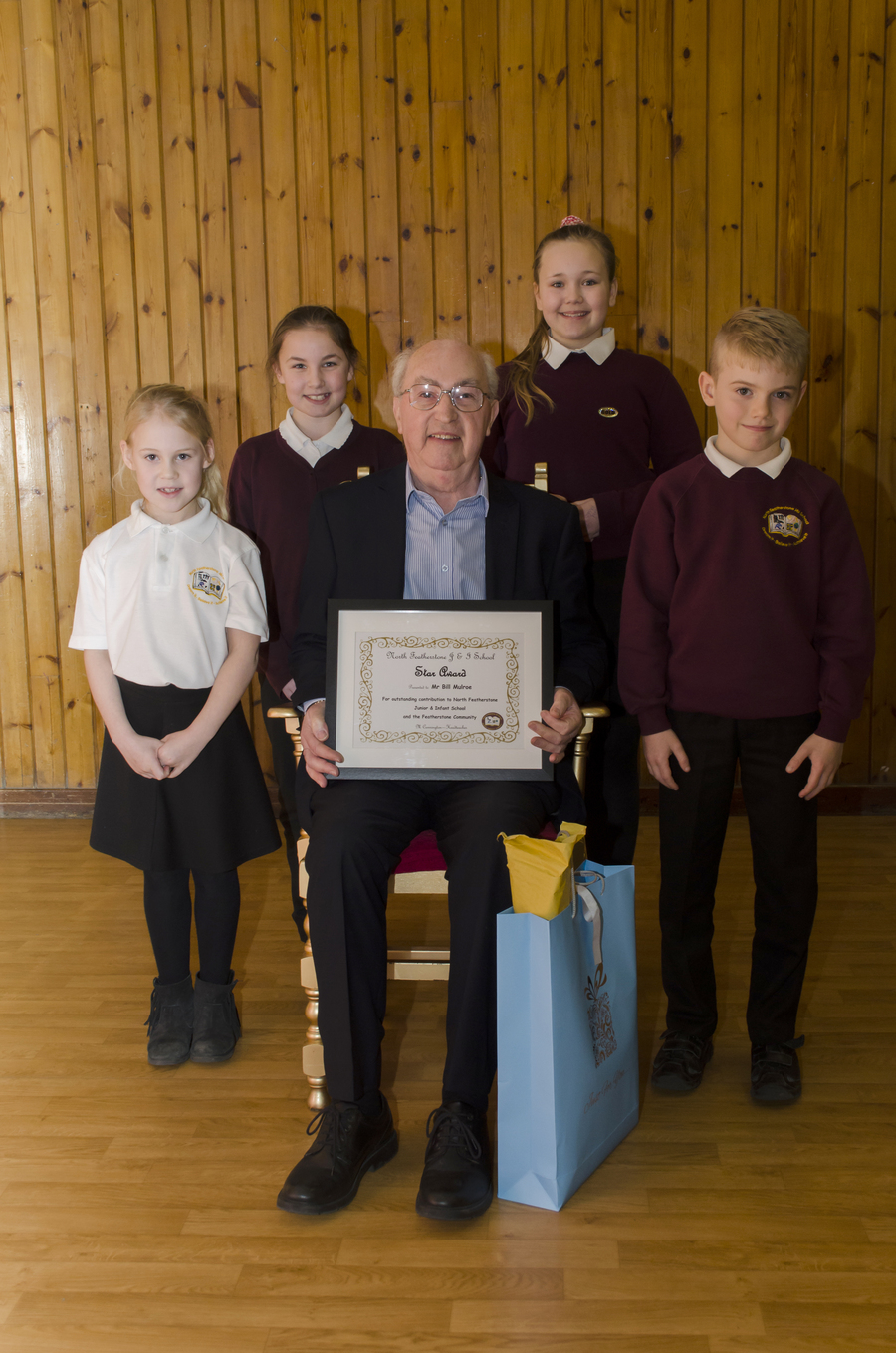 Children presented Mr Bill Munroe a gift from North Featherstone Junior and Infant School to show our appreciation for the work he has done to support the school, when he retired from being one of our Governors. Bill had been involved with school for an impressive sixteen years! He will be missed around school, but we are bound to see him at many events in the local community.
When children reach years 5 and 6, they are invited to attend lesson and activities in our local high schools. This allows children to make informed decisions about their next steps in education and create relationships with future educators as well as preparing them for the changes in the next few year. These children are enjoying a taster day at Featherstone Academy - science experiments, fixing bike punctures and baking biscuits!
Make a Pound Grow
'Make a Pound Grow' was a wonderful event in our school calendar. Each class was given a pound for every pupil, children were then set the task of making that pound grow and producing a profit. They were full of wonderful entrepreneurial ideas and couldn't wait to get started. There was lots of secret planning and preparation in the weeks leading up to the big event. Every class was allocated a space on the playground to present their business, there was such a variety of stalls: handmade creations, cake sells, homemade lemonade (that was a top seller in the July heat), obstacle courses, photo shoot with Disney characters, sponge-throwing, a vote to gunge a teacher and many more! The children from each class were proudly in charge of manning their stalls and dealing with their profit, as the parents and community came in to explore what was on offer for an afternoon of entertainment and business. It was a wonderful day, the children worked incredibly hard and had a great time whilst gaining experience in business and understanding the value of money.
Operation Christmas Child
Halloween
Some scary-looking children turned up for the annual fun-filled Halloween disco. Wonderful effort had gone into these costumes and it was a terrifying but exciting evening at North Featherstone J and I.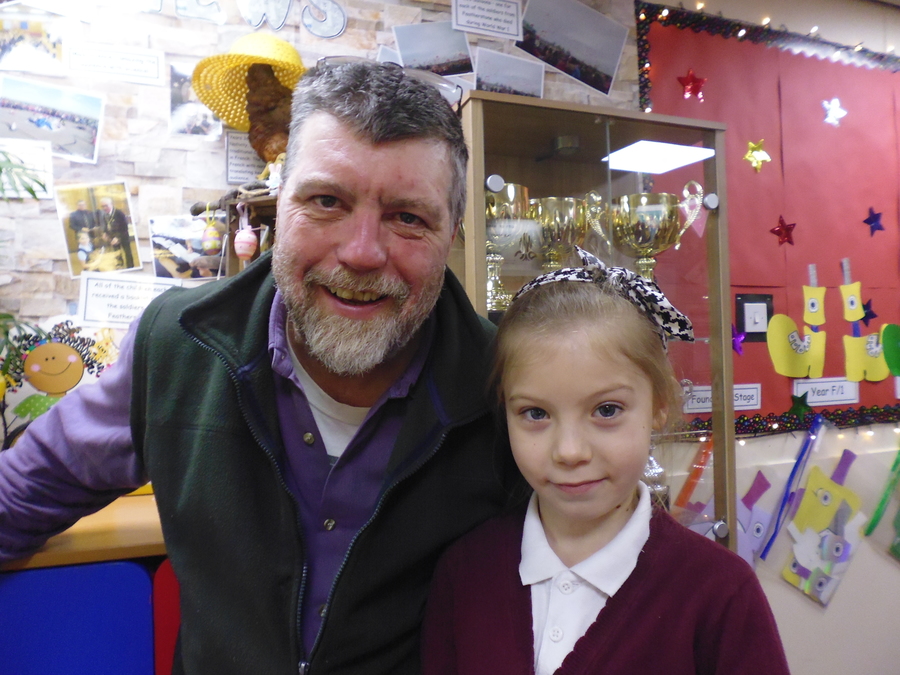 For ten years, the children of Featherstone have had the opportunity to enter a writing competition run by local writer and broadcaster, Ian Clayton, in memory of his daughter, Billie, who was very passionate about music. The winners each year receive a musical instrument of their choice and lessons for a year: this is our winner who was presented with her new guitar, by Ian Clayton himself, at a wonderful night of celebration and music at St Wilfrid's School.